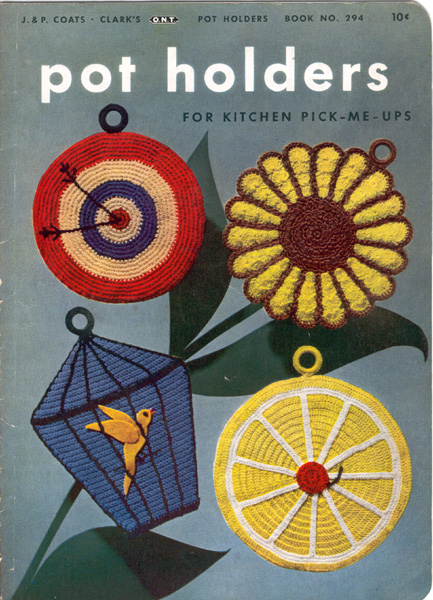 Pot Holders for Kitchen Pick-Me-Up. 10 !/2 X 7 inches 15 pages The Spool Cotton Company 1952. Includes the idea of a Pot Holder of the Month Club. There are clowns, rolling pins, Shamrocks, Chickens, Umbrellas, Easter Eggs, Daisy, Bulls Eye, Grapefruit, Fish, Fan, Lady Bug, Ships Wheel, Penguin, turtle, pumpkin, Bird in a cage, pig, Artists Palette, snowman, and a Christmas tree.
Find It Here:
Edit
Link to Discussions or Blogs Here:
Edit
Ad blocker interference detected!
Wikia is a free-to-use site that makes money from advertising. We have a modified experience for viewers using ad blockers

Wikia is not accessible if you've made further modifications. Remove the custom ad blocker rule(s) and the page will load as expected.